Mesin klip pengikat haiwan kesayangan untuk klip haiwan peliharaan -19 mm- (19mm).
Pengenalan kepada klip pengedap PET -19 mm-
The machine mainly produces 3/4 "PET -strap clips- in the market
The raw material is the galvanized steel wire which is used directly on the machine without hurting the surface of the wire
The PET-strapping clip-3/4 'is widely used in the heavy-duty strapping application which is going to replace some application by steel strapping
because it reaches as strong as 1100 KG of breaking point for PET strapping.
So the PET seal must hold for at least 70 % of what PET strapping requires it to keep that is 700-800 KG tensile strength.
The rate for PET seal 3/4 'is quite high compared with other size of the seals.
Photo of the PET seal 3/4 'produced by the machine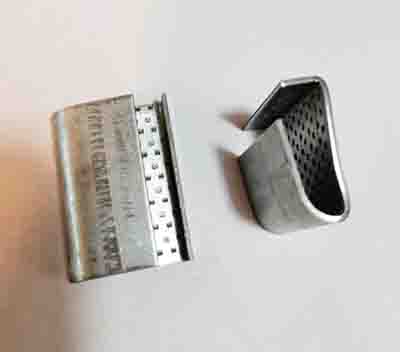 The overall view of the 3/4 "PET seal making machine
Aplikasi dan ciri pengedap PET 3/4:
Pengedap bergerigi terbuka tugas berat yang dibuat oleh Orgapack untuk pengikat poliester (PET) 3/4 '
Corak bergerigi yang dipatenkan dan keluli gred tinggi menginsuranskan kuasa pegangan yang unggul
Boleh digunakan dengan pengedap/pengelap tangan (MUL-330 atau C-5005) serta alat gabungan (MUL-350)
Dapatkan petikan sekarang dengan menulis beberapa perkataan di bawah!