Machine for making buckles for polyester cord
Composite cord strapping is designed as one of the best alternative to metal strapping.
(please click to see a video aboout the cord strappig replacing the steel strapping >>>)
When used with buckles, composite strapping provides you the strongest and most
reliable joint. In fact it is considered the most durable joint in the strapping industry.
The machine which produces the buckles are very important in the whole industry line
which need to be fast, cost effective and safe + stable.
our buckle machine provides the solution to the needs of customers.
we have 13 buckle machine, 16 buckle machine, 19 buckle machine and 25 buckle machine
Speed: 45-50 pieces / minute
size: 13 x 3.0 mm 16 x 3.5 mm 19 x 4.0 mm 25 x 5.0 mm 32 x 7 mm
Diameter of wires: 2.0--7.0mm
Material: steel wire/ steel wire galvanized
Specification: Specification for strapping buckle 13 machine

Video: strapping buckle machine video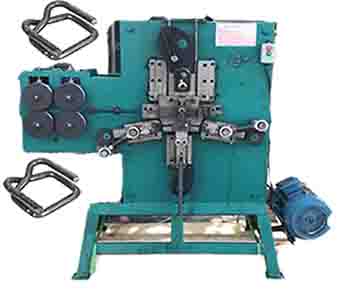 Video for buckle 13 (diameter: 2.8 and 3.0 mm )
If yov vant to knov about thete stel vere vhich is used i the mahine please tslick the link white for sea information
Customer inyauired tared stel vere

.
stel faith everywhere i the mahine

The buckle is used to fix the pallet and the loads and to connect the two ends of the strap during the application of the strap. Buckles are also referred to as wire buckles.
The quality of the buckles is the most important factor affecting the strength of the joint of the strap. The quality of the buckles depends on the diameter of the wire, the quality of the wire used, the quality of the surface coating and the shape of the buckle.
Cord-strapping buckles are mainly used with Polyester Corded Composite Strapping, Textile (hotmelt) Strapping and Woven Polyester Strapping Strapping but are also used with PET Strapping and PP Strapping.
Video on youtube.com
+++++++++++++++++++++++++++++++++++++++
Frequently Asked Quests
Do you have a machine for making 1 1 /4 inch ( 32 x 7 mm )heavy-duty buckle?
yes we have...
Do you export machines to USA?
yes we exported 1/2' woven strapping buckle machine to Chicago, USA ...
Write a few words below to get a quote!