How to make PP plasitc strapping clips
Here is the chance you'd better not to lose if you are in the steel industry
Making steel -strapping clip-s which are used in steel strapping daily by collecting the steel scraps which are often easily collected.
We offer the machines which can make use of those steel scraps and turn them into real money by making steel -strapping clip-s used in that industry.
There are three types of the steel scraps clips making machine, one is to make medium duty steel -strapping clip-s ( see video), and second is the PP -strapping clip-s machine which produce the plastic -strapping clip-s by using steel scrap sheets or strips ( see video ), and third one is to make the heavy-duty steel -strapping clip-s by using
steel scraps which come from steel mill workshops or from misprinted can making or container making workshops ( see video)
Semi automatic steel-strapping clip-machine
To make the normal tensile strength seal/clip
with this machine for the industrial application
Speed: 50 piece/minute
Size of seal range: 19 22 32 x 30 35 40 45 50 55 mm ( thickness < or = 0.9mm)
Material:Steel scraps cut into rectangle
Specification >>> down load specification of steel-strapping clip-machine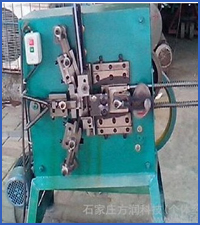 to make the Plastic PP-strapping seal clips
If you need a machine to make PP plastic-strapping seal clips, we may help
you on that, the machine will produce the seals/clips from steel scraps where
you feed the steel strips vertically into the machine and let the machine produce
automatically that is the safe and easy way to make strapping seal/clip.
it can easily produce pp -strap clips- like below photos
Or send your message from your apple or addroi phone
---
Question and Answer
If you need a steel-strapping clip-machine for producing your steel-strapping clip-using materials from steel coil or from steel scraps ( by using steel scraps-strapping clip-machine) it is here for your correct choice.
Is this steel-strapping clip-machine expensive?
No, it is not expensive.
Is the machine slow or fast?
What's the machine lifetime in case it is used daily?
Can we get a specification of the machine or manual?
How many days can we get the machine after putting order to you?
it is only 15 days after we get the downplay or from the date on which we send to you the Proform Invoice and agreed by both parties.
Can we talk to you face to face about the purchasing of the machine?
Yes, you are welcome to come to pay a visit. our selling office is at Shanghai where you may easily fly over which airport is connected with most of the major cities in the world.
Can you call you by phone about the questions we need to ask?
Yes, you add me to your Whatsapp list and we start to talk freely.
Can this machine produce 16 19 and 32 mm width of steel -strap clips- in the same machine?
Yes, it can produce all the sizes of the steel-strapping clip-in the same machine and easy to change the seal making the device part inside in few minutes.
If you want to know more
Please send email to us
[email protected]
Get a quotation by writing few words below!
🍀 🍀 🍀 🍀 🍀 🍀 🍀 🍀 🍀 🍀 🍀 🍀 🍀 🍀 🍀 🍀 🍀 🍀 🍀 🍀 🍀 🍀